As aluminum is a soft metal we began drilling the holes for the copper pipes into the plate with the appropriately sized drill bit. Quickly things got messed up. We were drilling by hand, and couldn't maintain the accuracy of the bit well enough. After noticing the drill bit was wandering away, we stopped and changed to a smaller 3/32" bit and went about drilling pilot holes. The smaller diameter bit is easier to control when doing things by hand, and provides a path for the larger bit to follow, making accurate holes much easier to accomplish.
After all the points had a pilot hole, they were enlarged to the correct dimension of 11/64".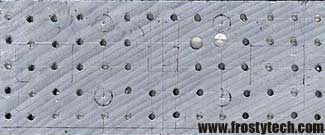 The aluminum plate is show here with its 3/16" pilot holes, one messed up 11/64" hole and one other 11/64" hole in the correct position.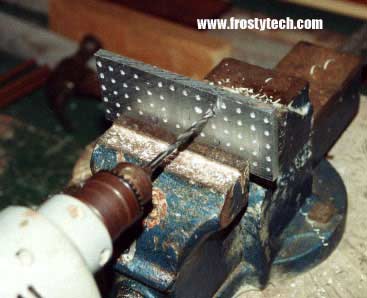 We mounted the aluminum plate in a vise when sizing the holes up to 11/64". This kept the plate nice and steady, and most importantly, perpendicular to our drill bit.