The plate we started out with was the correct width but not the correct height, so a little cutting was in order. With the layout finalized and the Athlon's components marked out, the plate was cut to a height of 57.5mm.
While a steady hand and a hacksaw could have cut the plate with a bit of elbow grease, we're lucky enough to have a diamond tipped saw at our research lab :) Cooled with a mixture of motor oil and kerosene the saw can rip through a 1/4" aluminum plate in a matter of seconds. The rough edge of the plate was filed down to remove most of the marks left by the saw blade, and any burrs as well.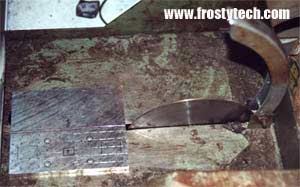 The aluminum plate about to be cut in two. The guard is up to show the blade, which is coated with diamond particles. The reservoir below is full of a mixture of motor oil and kerosene to lubricate the saw blade and stop it from getting clogged or overheating.
It took about 30 seconds to cut this plate in half. It's difficult to see, but there is a large pool of the cutting fluid on the surface from the cutting operation (with plenty of aluminum particles mixed in). The guard basically stops the fluid from spraying all over the room. A little hot water and the fluid is removed from our plate easily.
The center punch
Before we began drilling the plate for the copper pipes, each location needed to be marked a bit more permanently than the marker was capable of. Much of the markings were faded from the cutting operation, and besides, it's much easier to drill a hole in metal with a starting point.
So the center points of all the copper pipe locations were marked out with an automatic center punch. A neat little tool which automatically impacts the surface of the material when pressure is applied to it. The little depressions also stop the drill bit from wandering when starting a hole.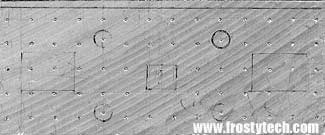 After the plate was cut in two and the cutting fluid removed, most of the markings were quite faded, so a center punch was used to permanently mark out where we would be drilling holes in the next step.

The automatic center punch does exactly what its names describes.