Taking that plate of T6-6061 aluminum (6.5mm thick and milled flat on both sides) in hand, we began our journey. To help figure out the layout of this heatsink we used a simple CAD program. With it we plotted the position of relevant components; the plate, the mounting holes in the PCB, the processor's core, l2 cache, and the locations of each copper pipe. Rather then go into the dimensions of that layout in detail now, a PDF is available here with all of the necessary dimensions for a Slot A Athlon processor.
The next step was to transfer that layout onto the plate itself. The location of the PCB mounting holes, L2 cache, and the processor's core were transferred to the aluminum plate, using an X-acto knife to ensure no markings would be worn away during further processes.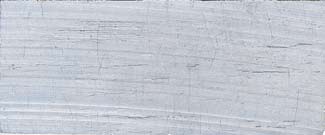 The raw aluminum plate after being cut down to a size of 127mm x 57.5mm. The plate was milled flat, but would eventually undergo a round of lapping to remove scratches which had occurred during the entire process.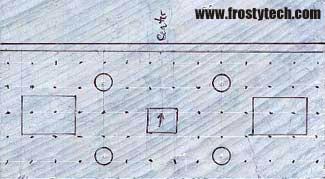 With an X-acto knife and a metal ruler, a grid of 9mm x 9mm was lightly marked into the top of the plate. Other important component locations were drawn in according to the positions from our CAD blueprint. The arrow points towards the top of the card. This was done to ensure the plate would not be installed incorrectly and interfere with the Athlon seating properly in the motherboard's slot.