Sections of wire about 45mm in length were cut off with a pair of straight shear snips. These are like a pair of regular diagonal wire cutters, but with the jaws on one side flush so that the wire when its cut is left with a perpendicular end. That end of each wire pin was tapped into a hole in the plate with a small hammer. 109 other bits of 45mm copper wire followed. As each row of pins was inserted, they were trimmed to a final height of 40mm using those straight shear snips.
Although none of these wire pins were soldered in at the time, in retrospect it would have been a good idea. While the joints were very tight, the short depth of the holes left little material to hold the relatively long pins in. A few of the pins had to subsequently be reinserted. Silver solder provides better thermal rates than lead-tin solder.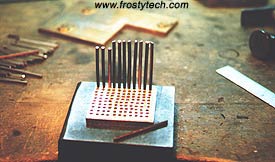 The first row of pins is shown, partially clipped to the correct height of 40mm. The metal block just provides a flat surface that won't damage the base of the copper plate.
With the Frosty CuPins Heatsink completed it got a quick dip in a special solution to give it a nice clean, frosted look. A thin piece of steel wire would latter be weaved through the individual pins and wrapped around the clips on the socket 370 to keep the CuPins Heatsink firmly attached to the Pentium III silicon die.
To attach a small 40mm x 40mm fan a length of copper wire was soldered to the tips of each corner pin. The wire was looped through the screw holes of the fan twice to easily hold it in place.
That's the end of the manufacturing side of the Frosty CuPins Heatsink. Now onto overclocking that 500E with a good copper heatsink!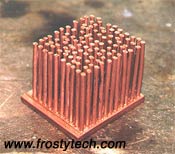 The Frosty CuPins Heatsink.