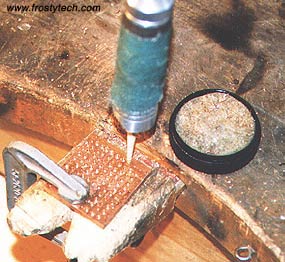 With the final holes being drilled into the copper plate things are beginning to take shape. The tape marks the point at which to stop drilling in.
110 holes later the block was just about ready for the next point in its progression towards 'eatsinkedness'. First though, all the burs kicked up by the drilling process had to be vanquished. A few seconds of 600 grit wet sandpaper cleaned up the whole surface nicely. You can see that we didn't try to make the whole surface uniform - it just wasn't necessary for this side.
| | |
| --- | --- |
| All cleaned up and shiny from the wet sandpaper, the top of the copper slug is ready to receive its first copper pins. | |
The Second step.
Right about here is where our tools separate how we made the Frosty CuPins Heatsink from how some of you may.... All of the holes which had just been drilled into the base plate were 1/8" diameter. The copper wire we happened to have on hand was just a bit too big for these holes. This was on purpose however.
Using a wire draw plate between the jaws of a vice (to hold it steady) allowed us to decrease the diameter of the copper wire incrementally. Essentially a draw plate is a slab of very hard steel with appropriately dimensioned, tapered holes. As wire is drawn through the hole it is stretched and its diameter decreases slightly to match that of the particular die.
Additionally the process work hardens the metal. So rather then working with soft copper that could be easily bent, we ended up with very stiff copper wire.
Pulling wire through the draw plate. The copper was lubricated with bees wax before being pulled with the special pliers shown. The result was properly dimensioned, and very stiff copper wire.