4) Conduction PCB Cooling via Cold Plate Heat Exchangers
Heatsinks conduct heat from the small surface area of a CPU to larger surface area where aluminum or copper fins can more easily transfer the heat into the surrounding air mass. This type of cooling system is familiar to every PC builder. What you might not be aware of is that printed circuit boards are also used to cool semiconductor devices.
ASUS for example have a technique called Stack Cool in which a slightly thicker, copper PCB trace layer is used as a heatsink to disperse the heat from MOSFETs or BGA chips across a greater area.

Copper pads behind MOSFETs can be used as simple heatsinks/heatspreading devices.
Taking the concept one step further is possible though. Aircraft electronics have been doing for years, and more recently LED lights have adopted a similar approach. A good example of the latter is seen in this PCSTATS tour of a LED lighting factory - the PCB for the LED elements is a 1.6mm sheet of aluminum which conducts heat to the bulb chassis which is nothing more than an extruded aluminum heatsink.
How does conduction cooling of a standard printed circuit board work?
Simply put, heat from electronic devices is conducted via solder joints to a thicker copper layer in the PCB that runs out to the edges of the board. Using specially designed metal pads at the edges, the heat from the PCB is then conducted to purpose placed aluminum heatspreaders, and finally to an external cold plate heat exchanger. From there the heat is passed onto the surrounding air mass by one means or another. More often than not, the cold-plate heat exchanger is the metal chassis for the electronics, as is the case with avionic computer systems and LED lighting. The technique is generally known as conductive PCB cooling, or conduction cooled chassis.

Five-slot conduction cooled ATR chassis for VMEbus avionics.
Here's an example of a conduction cooled ATR avionics rack chassis made by a company called SBS. The chassis has integrated cooling fins cut into the outside of its thick aluminum walls (~10mm thick). A specially designed VMEbus single-board computer keeps its electronic components cool on the inside by conducting all heat to the cold walls of the solid aluminum chassis. No fans are used.

External aluminum walls are ~10mm thick. Calmark Card-lok retainers expand in the spaces along either side to keep the PCB heat spreader in contact with the aluminum cold wall of the chassis.

Specially designed copper pads along the left/right edges of the VMEbus single board computer conduct heat to the cold walls of the chassis. The board is pictured without the heat frame, or heat spreaders attached.
There are quite a few variations on this theme, some include integrated water cooling, spray-mist cooling, indirect and direct forced air cooling just to name a few.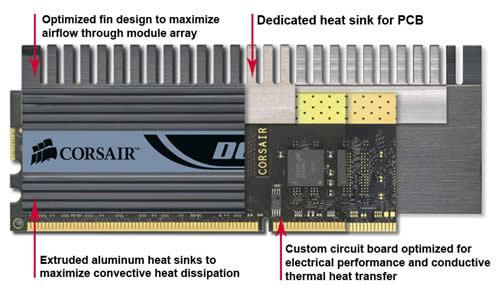 In the computer world this technique has already been adopted by Corsair with its Dominator memory modules. It would be interesting to see conduction cooled motherboards or perhaps videocards enter the market, as it could certainly be a boon for building 100% silent PC systems.