3) Phase Change Waterchilling
Phase change coolers are nothing new, and quite a few manufacturers offer systems that accommodate CPU and even GPU cooling. While flipping through some old test notes I came across a round of testing Frostytech conducted with a Zalman Reserator and a lab grade Neslab CryoCool CC-60 dip chiller.
The Reserator is a passive watercooling tower that circulates about 1.5 litres of an ethylene glycol / distilled water coolant through CPU, GPU and motherboard chipset waterblocks. The fluid is normally cooled passively in the aluminum reservoir tower by passive convection.
For fun, Frostytech popped the top off the Reserator's coolant tower and put in the Neslab CC-60's immersion chiller. It's a 14" long spiral stainless steel tube which is designed to cool fluids in lab experiments to as low as -60°C.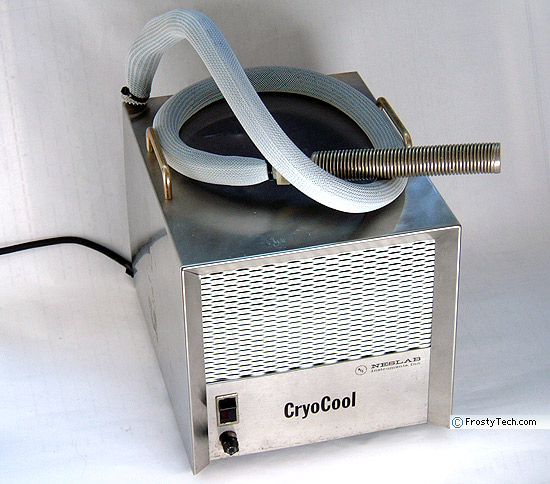 Neslab Cyrocool laboratory dip chiller. Good for bringing liquids down to -60°C.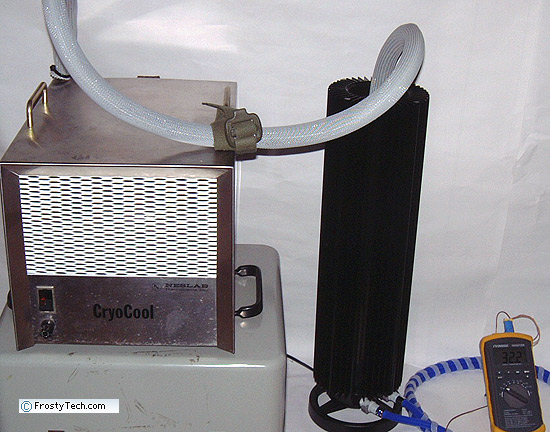 The set up. At left a Neslab Cyrocool laboratory dip chiller and right, Zalman Reserator. The start of phase change water chilling?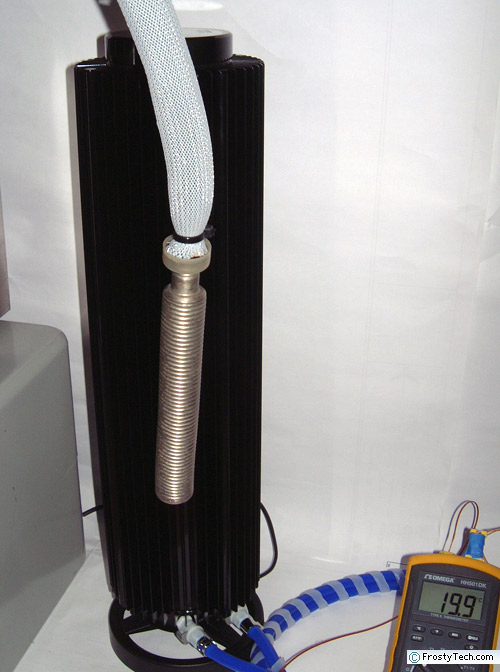 Position of laboratory dip chiller inside the Reserator cooling tower.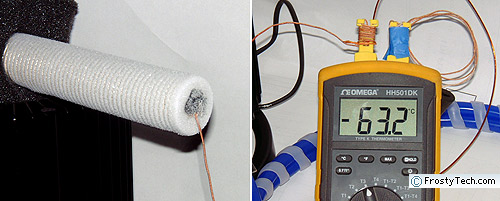 Unloaded temperature test of the dip chiller: -63°C. Looking good!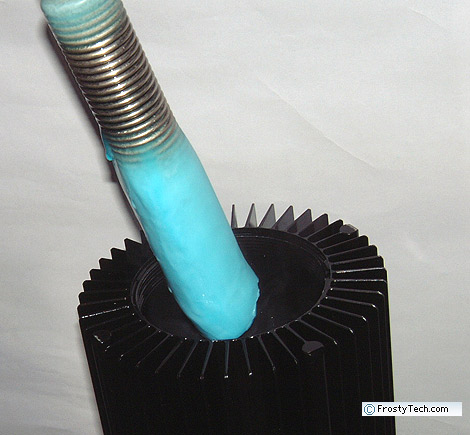 The result, on a 125W heat load coolant held steady at 20°C and dip chiller looking like a popsicle stick.
It goes without saying that we weren't expecting dramatic results with this. The Reserator tower wasn't insulated from the ambient air, and cooling that much fluid takes a long time. The test was more a proof of concept for a smaller scaled down system - with the dip chiller encased in a small reservoir having appropriate insulation and fluid passing over it to the CPU/GPU/NB waterblock.
The biggest hurdle turned out to be ensuring a steady stream of "hot" return coolant flowing over the dip chiller. What was really needed was a more efficient form of liquid-to-liquid heat exchanger than simply a spiral tube sitting in a largely stationary 'bucket' of water. Still, the possibilities for "chilled" PC watercooling circuits is intriguing