2) Thermoacoustic Cooling
Built by Dr. Steven Garrett of Penn State, in partnership with the US Navy's Office of Naval Research, the Thermoacoustic Chiller works on similar principles to that of a traditional refrigerator, except that it uses sound waves instead of a compressor to create the cooling effect. A prototype Thermoacoustic Refigerator was on display as part of the Bruce Mao Massive Change exhibition a couple years ago when Frostytech snapped these photos.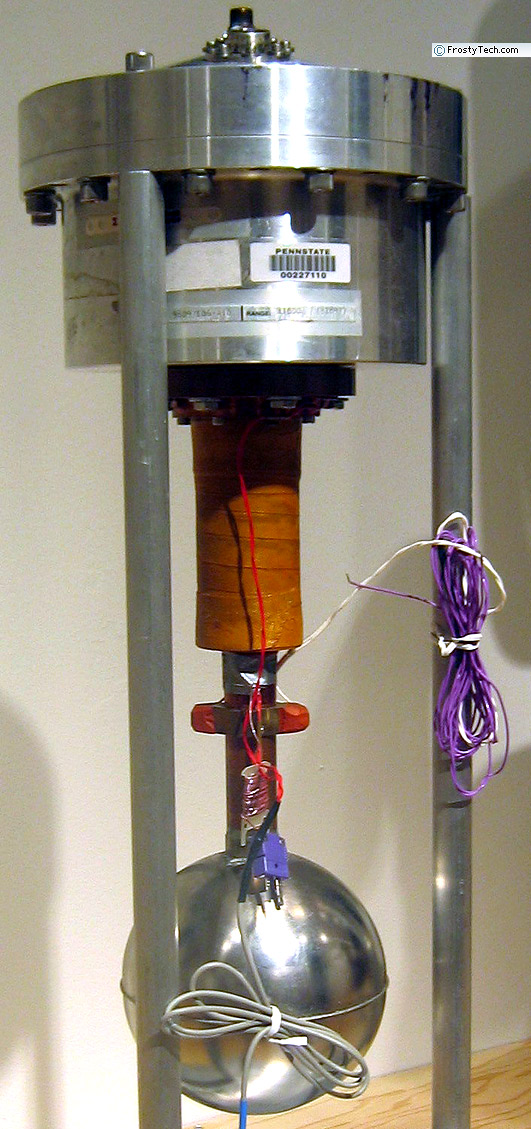 Thermoacoustic Chiller instrumented with RTD thermocouples, and a few other sensors.
"In basic terms, the thermoacoustic chiller is a closed-pressure vessel that contains a stack of fine-mesh window screens called a 'regenerator,' along with two heat exchangers, and a source of acoustic energy. The source, in this case, is a souped-up loudspeaker that generates high-amplitude sound energy in an environmentally safe inert gas (helium), which is converted into cooling power. The sound levels needed to make this happen (173dB) can only be reached in contained, pressurized gas. To a nearby observer, the thermoacoustic chiller makes no more than about 60 decibels noise."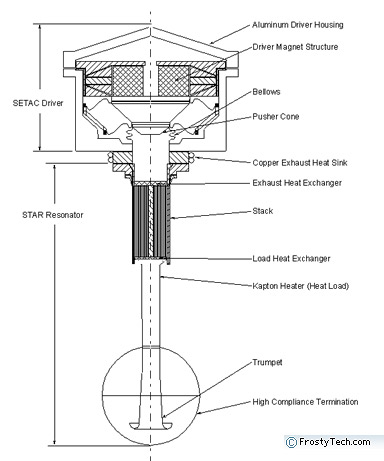 "The refrigerator is driven by a modified compression driver that is coupled to a quarter-wavelength resonator using a single-convolution metal bellow. The resonator contains the heat exchangers and the stack. The stack was constructed by rolling up polyester film (Mylar) using fishing line as spaces placed every 5 mm. The device was filled with a 97.2% Helium and 2.7% Xenon gas mixture at a pressure of 10 atmospheres. It can move about 400 Watts of heat , which is about enough to cool the space of a standard refrigerator."