Below the cover lay the brains of the whole operation. This particular phone uses the MSM3000 chip to run the show (BGA chipset at dead center). A quick trip over to the Qualcomm website tells us some interesting factoids about this little chip.
MSM first of all stands for 'Mobile Station Modem', of which the MSM3000 is a 5th generation variant. The chip is capable of 64Kbps transfer rates, employs the 'SuperFinger 6-8 channel demodulator, supports voice recognition - even though the phone doesn't - and includes a few selected bits of an ARM microprocessor imbedded in the design.
"Performs baseband digital signal processing and executes the subscriber unit system software It is the central interface device in the subscriber unit, connecting RF, baseband and audio circuits, as well as memory and user interface features."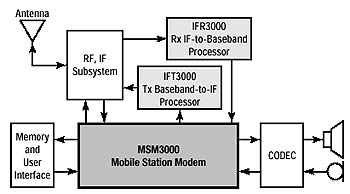 There also appears to be a Mitsubishi RAM module at the very top, and a slice of silicon with the Intel mark to the right. This bare piece of silicon is about the size of the coppermine's die (no it isn't) and is laser etched " F80083T". Sorry no info on that one.