Step 1: cutting copper
The first task was to cut out the components from the two large sheets of copper. Fourteen fins of 50mm x 55mm were cut from the 1/32" sheet and one 50mm x 50mm base plate cut from the 1/4" slab. This took a while to do. The reason being, we used a coping saw, rather then a hack saw to do the cutting. The choice came down to one of more control over the cutting. I've often found it harder to cut straight lines with hack saws. As soon as they start to stray from the center line it's hard to get them back on track. A coping saw has a much smaller blade and can be manipulated much more easily.
Cutting out the CopperSinkr components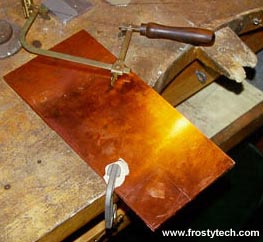 Cutting the base plate from this 1/4" slab of copper took a while to accomplish with a coping saw. The resulting square of metal had good dimensions however.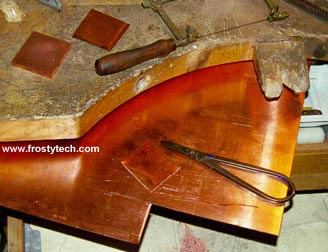 The fourteen 1/32" fins were much easier to cut from this larger sheet of copper and only took an hour or so to extract. Ahhhh so much copper.....
The 1/32" pieces were destined to become the fins of our CopperSinkr . As we said, each of the 14 fins was cutout with the coping saw and tin snips. Tin snips alone caused too much distortion in the copper. This was very time consuming to do by hand, and used up a dozen or so blades, but resulted in superior dimensional results, and perfectly flat fins. So in the long run it saved some time and trouble.