Abstract: In the following pages you'll see every imaginable shape, material, and size of cooling system and heatsink.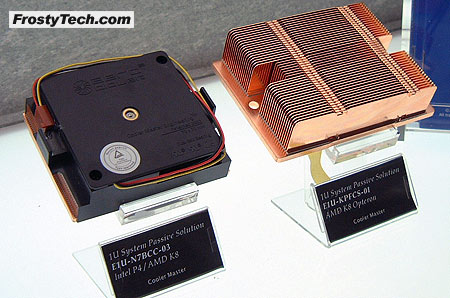 These are two 1U Coolermaster heatsinks made from stacked copper fins. The Coolermaster E1U-N7BCC-03 at left is for Pentium 4 and AMD K8 processors. The model at right is the Coolermaster E1U-KPFCS-01 and is specifically designed for the AMD K8 Opteron processor.
Coolermaster had a few other 1U and so called server heatsinks on display at this particular trade show. From the left we find the 1U Coolermaster ECU-PUA1S25, the Intel Xeon D14-7J21EL1 extruded aluminum heatsink, and the stacked copper fin passive Prescott ready 1U Coolermaster E1U-NPFCS01 heatsink.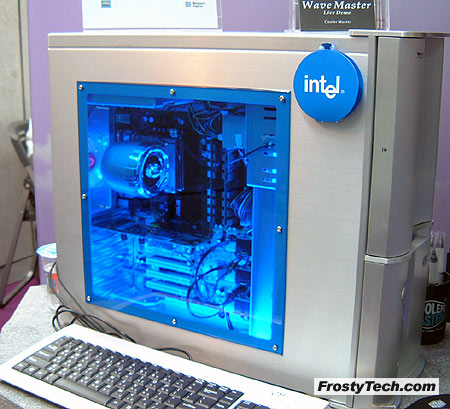 The Coolermaster Wavemaster aluminum case has received a lot of attention for its clean design, and user friendly layout.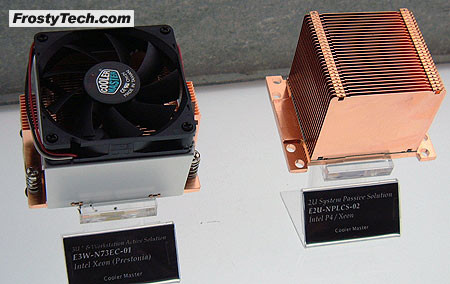 These two Intel Xeon heatsinks are intended for server use in non-forced air and ducted forced-air environments. The 3U Coolermaster E3W-N73EC01 and E3U-NP1CS-02 are pictured.
Judging by the assortment of products Coolermaster has been showcasing at recent events, it's clear that the company is moving away from heatsinks and refocusing some of its resources towards computer cases and accessories. So far the results have been hit and miss. The Coolermaster Wavemaster case is a good solid design that has won interest from consumers, but some the drive bays which are also being sold are really lackluster.








Websites you may also like:
PCSTATS


Time stamped: 12:14PM, 09.24.2018