Coolermaster is a well known heatsink and case manufacturer in the consumer arena. The company also works with other companies to produce OEM cooling solutions, like the pair of Geforce videocard heatsinks pictured below. While Coolermaster has primarily been known to FrostyTech as a heatsink maker, in recent years we have noticed a shift towards aluminum cases and other cooling-related peripherals.
FrostyTech caught up with Coolermaster a while ago at Computex, where the company had a pretty small assortment of products on display.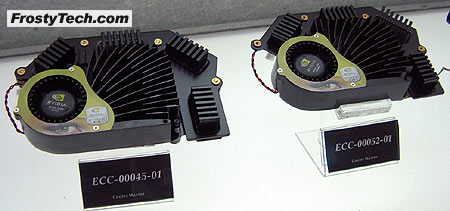 Coolermaster made Geforce heatsinks for nVidia videocards.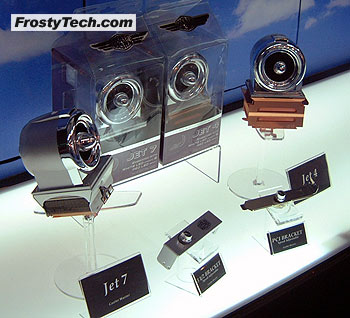 The Coolermaster Jet7 and Jet4 heatsinks were quite popular when they were first introduced. The squirrel cage fans have the appearance of a jet engine intake.
Some items which make up Coolermaster's new focus are installed in the aluminum case at left. At right, a rarity these days; the fully extruded aluminum Coolermaster D14-6N31A-L1 heatsink. With the demand for very quiet cooling solutions for increasingly hot CPUs, the days of simple extruded aluminum heatsinks are numbered.