Abstract: In the following pages you'll see every imaginable shape, material, and size of cooling system and heatsink.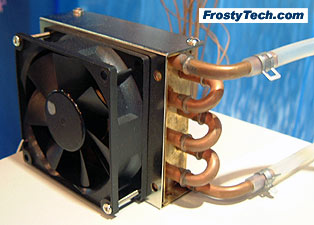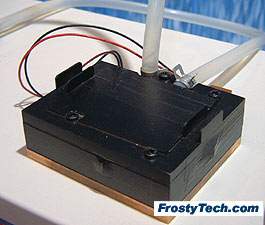 At this particular trade show, AVC had a prototype water cooling system on display. Though the company was not releasing further details about its performance, or construction.
The AVC Z7U8003 Athlon 64 heatsink; constructed from extruded aluminum with a copper core.
Socket 754 and 939/940 AMD Athlon64 heatsinks are certainly shaping up to be the market with the most growth prospects. The K8 retention system is a welcome change from the troublesome socket A clips, and AVC were displaying several example heatsinks like the AVC Z7U8003 pictured here.
AVC - Asia Vital Components Co.,Ltd.
Company Background: AVC, HQ in Taiwan, is the world's largest CPU cooler supplier and the 353th manufacturer in Taiwan, equipped with more than 100 R&D members and production floor of over 55,000 square meter located in Taipei and Kaoshiung, Taiwan and Shenzhen and Shanghai, China. AVC is also a leading provider of various thermal products, including DC fan, heat sink, thermal module used in notebook and heat pipe. AVC's customers include most of the first tier OEM/ODM PC and notebook makers with revenue accounted for USD$86 millions in 2001 for CPU cooler only. AVC is a vertically integrated and R&D oriented company,providing thermal problem solving capability ranging from component to system level and from theoretical simulation to reality.
Further Info: Heatsink Industry Directory - General Heatsink Mfg'r Web Index








Websites you may also like:
PCSTATS


Time stamped: 11:06PM, 12.10.2018