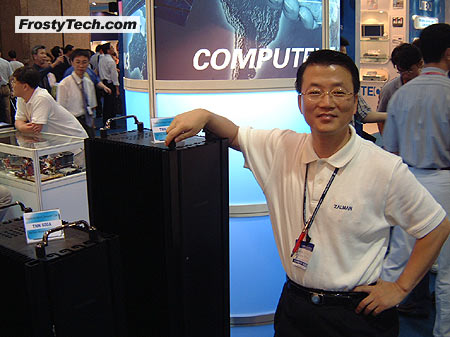 Zalman Tech Co. has so far managed to develop some of the neatest looking heatsinks anywhere, and the company has made good inroads into water cooling and the silent case markets too. Zalman's focus on low noise cooling solutions has earned it a respected niche, and given peace and quiet to many computer users.
It's easy to see that Zalman continues to innovate; over the course of three trade shows FrostyTech witnessed minor adjustments to each of the companies newest cooling products.
Zalman Reserator 1 and Other Cooling Systems
Next up on the list of Zalman products is the Reserator 1 which has gone through a couple revisions since FrostyTech first encountered it at Computex. If you've never seen anything like the Zalman Reserator 1, the best way to describe it is as a passively cooled radiator for a water cooling system.
In other words, instead of blowing air through a heat exchanger, the warm water is pumped into a large extruded aluminum cylinder which has cooling fins all around the outside. In much the same way as cast iron radiators used to be common in houses, the Zalman Reserator 1 absorbs the latent heat from the cooling fluid, and convection currents (warm air rising) on the outside of the aluminum cylinder then gradually and silently cool it back down before the fluid is recirculated to the CPU, GPU, or northbridge water blocks.
The first revision of the Reserator 1. Note the clear hose and fixed compression fittings.
The first version of the Reserator 1 on display at Zalman's booth was not much different than what consumers can purchase today, expect on the fittings. The hosing was clear, all the compression fittings were fixed (no quick release), and the Zalman ZM-WB2 water block was included with the unit.
The original Zalman ZM-WB2 water block for a Pentium 4 system.
Zalman upgraded the type of compression fitting used on the original Reserator, and changed the hose material.
The stand saw a few changes itself, including the addition of a rubber O-ring on the base for some added friction.