Alternate applications of the heatcolumn; telco and shapes.
While this heatpipe technology has surfaced on a few heatsinks FrostyTech has tested already, it may be slower to get adopted in spite of its otherwise promising attributes.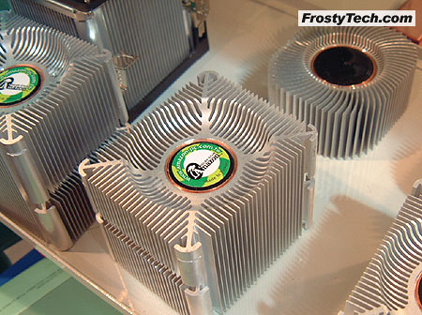 A variety of Cooler Star Amazon heatsinks of various sizes, and heatcolumn diameters were exhibited.
As we can see by these two examples, the heatcolumn is being used as the basis for a wide variety of heatsinks, both for the Pentium 4 processor, and for other applications.
Other heatsinks, like the Cooler Star Amazon CF-7934OL-2 (below) and CF-6838CA break new ground for copper core Pentium 4 and Socket A thermal designs. The former uses a hollowed out 31mm copper core and two segments of radial extruded aluminum fins. The idea being to quickly move the thermal energy up and outward for transmission to the aluminum. How this works remains to be tested, but it is a technique we have seen emerge from a couple different places.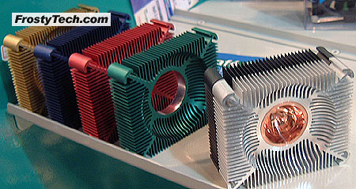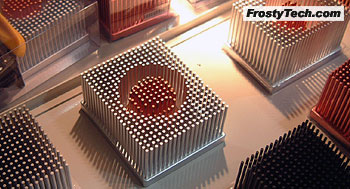 Heatsinks with alternate types of copper core. The above heatsink is composed of two sections, the lower uses shaped copper pins directly above the CPU.
Another copper core design which is unique to Cooler Star Amazon is the copper pin insert in an aluminum pin cold forged heatsink for the AthlonXP. The copper pin section is 36mm in diameter and formed by a forging process before being inserted into the surrounding aluminum section. What makes this heatsink especially interesting is that the pins vary in height for the copper insert. This may help deal with the dead-spot of air typically found under a fan's motor.