Since Chaintech Reloaded 2003 is most obviously a Chaintech event, the assembled media including ourselves were quite eager to get our hands on some of Chaintech's latest and greatest products. While there was an excellent assortment of the current crop of Chaintech Zenith, Apogee, and Sumitt mainboards, there wasn't much on the way of exciting as-yet-unreleased gear except for a brief glimpse of Chaintech's upcoming Athlon64 mainboard.
The Athlon64 board should be hitting store shelves this fall to be on target with AMD's scheduled release plans for September 2003.
Chaintech classify their boards according to Blue, Green, Yellow and Orange colour schemes. Currently, the Zenith(which consists of the best available chipset) landscape looks something like this.
The 9CJS is Chaintech's i875 Canterwood edition.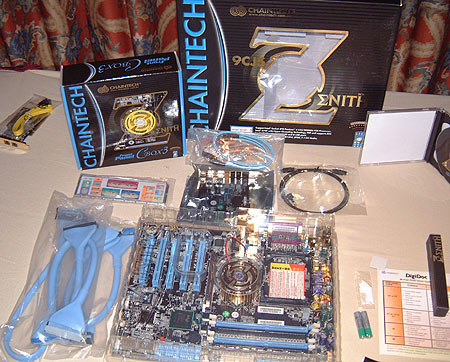 The Chaintech 7NJS Ultra is their nForce2 mainboard.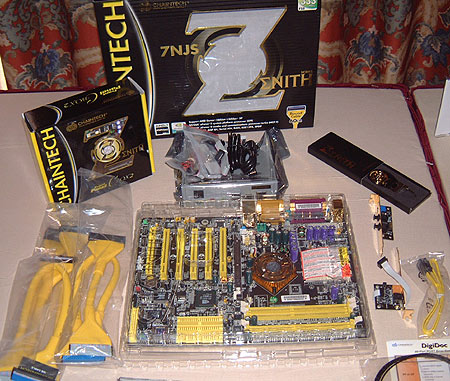 The Chaintech 9EJS1 is the i845PE mainboard and the Chaintech 8NJS Ultra is the upcoming Crush K8 board. On the Apogee side of the fence Chaintech showed off their 9PJL i865PE mainboard and nForce2 solution.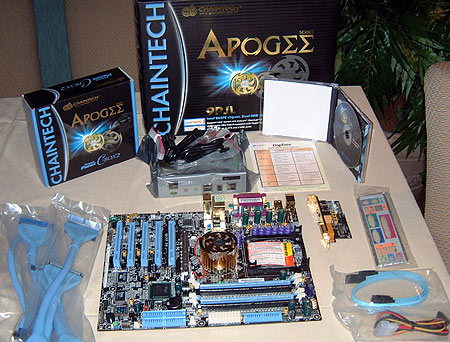 The Chaintech 7NJL1 is based on the nForce2-Ultra chipset.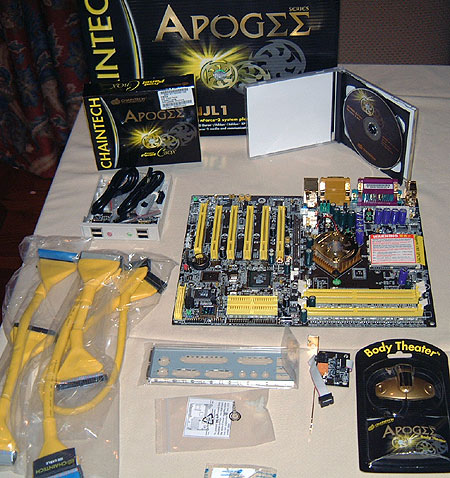 Also on display was the very tasty Apogee GFX5900 Videocard shown here.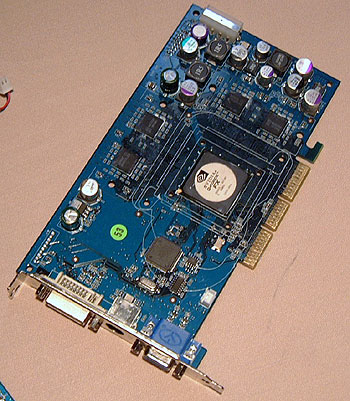 Chaintech package a small mountain of things in with this card, including a full set of cables, DVI-to-Analog converter, some bundled games and even a dust ball for cleaning the computer screen.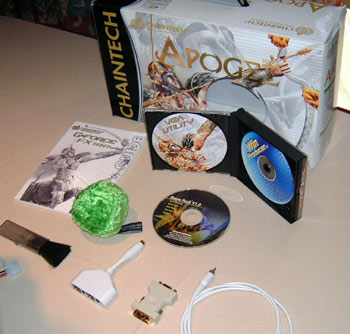 The Apogee line of videocards are not based on TSOP-II 3ns memory according to company representatives but rather 2.2ns BGA DDR RAM. The cards are shown without any cooling apparatus attached, but do indeed come with a fan duct and blowers which are designed to create as little noise as possible.
Retail prices of the Chaintech 5900 Ultra (256MB) are expected to be $499, and $399 for the 128MB version.