Titan TTC-D5TB2/A Heatsink Review
---
Titan were well know for their ill-performing double ended heatsinks in the past. It now seems as though they have managed to reinvent themselves with a supply of low-noise cooling solutions. Judging by the preliminary numbers, Titan have created some very decent heatsinks, which is great to see. There has long been a vacuum in the area of low-noise heatsinks that don't frankly suck. Most of the ones we've seem were originally designed for the older socket 370 processors, and simply don't have the stuff to properly cool a T-Bird processor.
Our ears are tortured by noisy (and well performing) Delta fans cooling overclocked processors every day. The TTC-D5TB2/A from Titan addresses these issues by using a very imaginative extruded heatsink design coupled with an 80mm fan, and audible alarm. With their solution, a stopped fan will no longer be a cause for concern on a T-Bird, or AXP chip, since the heatsink now sets of an audible alarm to warn users of the malfunction.
Heatsink Specsheet:

Model: TTC-D5TB2/A
Fan: Titan, 12V, 0.16A
Fan Dim: 25x80x80mm
Heatsink Dim: 65x80x80mm
HS Material: Extruded Aluminum
Mfg by: Titan
Cost: ~$30


Sold By: www.titan-cd.com
Rotational Alarm Built-in

The alarm system is contained in a small streamlined plastic enclosure a short distance from the fan and is tied into the RPM sensor by the looks of it.
Some simple circuitry sets off a piezoelectric alarm that puts out a rather annoying beep when the fan stops rotating. The technology applied here is very simple, and the alarm is only triggered when power is applied to the fan, but the fan blades are not rotating. Once the fan blades begin to move, however slow it may be, the alarm is shut off.
The end result is good for catastrophic failures of the fan, or situations where the blades have sucked in a loose wire, but do nothing to resolve instances where the bearings partially seize slowing the fan down.
On one final note, each time the fan is started up, a short squeak from the alarm is also sounded - and this can be a bit startling if you aren't expecting it.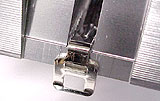 The clip used on the D5TB2A is your standard flat head screwdriver variety, but given the large size of the heatsink this worked out well.