Arkua 7228 Copper-Core Heatsink Review
---
It seems half of the Arkua heatsinks are plain and unanodized, while the rest are all anodized black. Their model 7228 is a copper-cored, black heatsink with a 60mm Delta fan up top. The heatsink is 70mm wide so a larger cooler could be used, but since 60mm fans are plentiful, and less expensive than the 70mm variety, the 7228 has been paired up this way.
A special plastic fan shroud keeps the important air focused down and keeps mounting the fan a simple, rather than complex affair. While the Arkua heatsinks resemble the well known Thermosonic Thermoengines, and more recently the Thermal Integration coolers, they are different upon close inspection in several very distinct ways.
Heatsink Specsheet:

Model: 7228
Fan: Innovative, 6800RPM, 12V, 0.39A, ball bearing.
Fan Dim: 25x60x60mm
Heatsink Dim: 76x75x75mm
HS Material: Aluminum, Copper
Mfg by: Arkua
Cost: ~$35


Sold By: Arkua
That's a copper core in there:
An aluminum heatsink with an interference fit copper slug for a heart.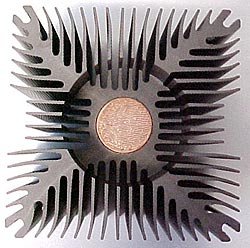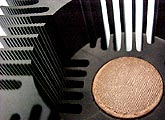 The theory behind this little marvel of hydraulic presses, and thermal engineering is that the more thermally conductive 28mm diameter copper slug will move the heat to the surrounding aluminum for dispersal to the environment. The top of the copper slug may not be much to look at but the base is machined perfectly smooth - enough to satisfy in the best back seat heatsink lapper.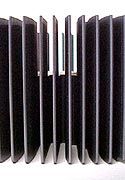 Given the preliminary results from our testing the theory works pretty well. A big help is also the orientation of the fan, and the not so small point of where the exhuast air is directed.
Continuously blowing cool air down onto the processor isn't going to hurt anyone's temperature results, and certainly not the 7228's either.
The central portion of the 7228 has been machined out to leave a 38mm diameter hole that goes down 17.5mm, leaving the copper core only about 24mm in height instead of the full 42mm. The entire design of the Arkua line of heatsinks should remind you of the Thermoengine heatsinks we all fell over a few months back, and indeed according to the Arkua website, their heatsinks are based on licensed technology from Thermosonic.