Spire 5T060B1H3R Heatsink Review
---
One of the biggest concerns with heatsinks from this company is that they come to the consumer under too many different names. Spire, Speeze and Fanner are all the same company, but you might not know that by looking at the box, or boxes. The 5T060B1H3R is not blessed with one of the easiest names to recall either so we're just going to call it the model 5T for the rest of this review.
At the forefront of the emerging class of 70mm heatsinks is the Model 5T, a simple extruded design that pulls it off quite well from the outset.
Heatsink Specsheet:

Model: 5T060B1H3R
Fan: Fanner Tech, 5800RPM, 12V, 0.24A.
Fan Dim: 15x70x70mm
Heatsink Dim: 56x74x78mm
HS Material: extruded aluminum
Mfg by: Spire
Cost: ~$25


Sold By: www.speeze.com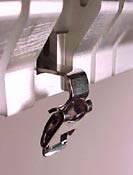 There are a few types of clips that require a tool which are really badly made. Some introduce the danger of the screwdriver slipping out from the clip and damaging the surrounding area on the motherboard PCB. Other clips make an effort to lock the tip of the screwdriver in place but are often undersized for all but the smallest of screw drivers.
Spire got it right (as much as you can with a clip that needs a tool anyway) with the Model 5T. The clip is formed so that a flat head screw driver of at least 6mm or so can slip into the small catch. The catch stops the metal tip from sliding out or coming loose while the heatsink is being installed on a processor.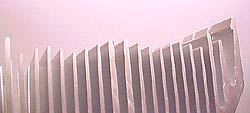 A plastic frame clips into the top of the heatsink and keeps the fan a good 6mm or so off the top of the fins for improved air flow. The fins themselves are also varied in height, ranging from 23mm to 27mm.