Vantec CCK-6027D Copper Heatsink Review
---
If you thought gold was the colour of choice for all things shinny then you are sadly mistaken - everyone interested in performance cooling knows full well that copper is king. Like its predecessor, the CCK-6035D, the half-pint Vantec CCK-6027D is based on a full copper thin-fin base design and packs a powerfully noisy Delta fan up top.
The question is, how will the shorter CCK-6027D compete against the larger CCK-6035D? Which one should you be thinking about getting? One of these two heatsinks outperforms the other, and it isn't the heatsink you think it is. That's right, where size doesn't matter, fin density does, and this copper cooler from Vantec has got a few tricks up its' sleeves that surprised even us.
Heatsink Specsheet:

Model: CCK-6027D
Fan: Delta, 6800RPM, 12V, 0.3A, ball bearing.
Fan Dim: 25x70x70mm
Heatsink Dim: 54x60x63mm
HS Material: Copper
Mfg by: Vantec
Cost: ~$25-$30


Sold By: Vantec
A Detailed look at the CCK-6027D: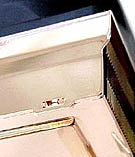 If you happen to know a little bit about metallurgy, you will probably notice that the shroud on the CCK-6027D, and indeed the entire unit, looks too shiny to be natural. This isn't a bad thing by any means, but we would like to point out that like its brother the CCK-6035D, the shroud is aluminum .
The entire heatsink has been plated, or perhaps powder coated (and baked), into a lustrously shiny copper coat. It certainly makes the heatsink look cleaner and from what we can see inhibits oxidation from fingerprints and the like from immediately appearing.
| | | | |
| --- | --- | --- | --- |
| Heatsink | Fin Hight | No. Fins | Fin Density |
| Vantec CCK-6027D | 22mm | 22 in 24mm | 0.91/mm |
| Vantec CCK-6035D | 32mm | 17 in 23mm | 0.73/mm |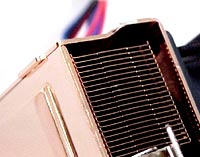 Now you could be forgiven for thinking that this heatsink is simply a shorter version of the one we've seen previously.
While it is true that the fin section on the CCK-6027D stands 22mm tall and the same component on the CCK-6035D is 32mm tall, that doesn't necessarily mean lower performance - quite the opposite in fact.
Setting aside the obvious differences in fin height, the CCK-6027D comes to the table packing a higher fin density. As we all know, higher fin density equates to a larger surface area, and if properly executed can lead to better cooling performance - as you are just about to see.