Vantec CCK-6035 Copper Heatsink Review
---
I had hoped to have tested the retail version of the Vantec CCK-6035D on our newest version of the FrostyTech Synthetic Temperature Test platform, but some setbacks have arisin, so we will be testing it out on the current test platform. On a side note, we're very excited about the new tester as it will allow us to test the recent trend of utterly massive copper heatsinks at a much higher wattage - so hot infact we may just melt a few of them ;-)
The retail version of the Vantec CCK6035D is exactly the same as the preproduction version we tested previously so this review is going to be an amendment to that review. There is little difference between the two verions of the CCK-6035, other than some visual ehancements.
Designed for:
Socket A, Socket 370, Socket 462.

Heatsink Specs:

HS Model: Vantec CCK-6035D
Fan: Delta AFB0612EH
Fan Spec: 6800RPM, 12V, 0.48A, 2 ball bearing
Fan Dim: 25x60x60mm
HS Dim: 64x65x65mm
HS Material: Assembled copper parts, aluminum
Comes with pass through power adapter cable.
Mfg by: Vantec
Cost: unknown


Sold By:
Vantecusa.com,
The fins are each bent on the base so that there is a millimeter or so of material to come in contact with the copper base plate. From the looks of it, the base plate is nice and smooth.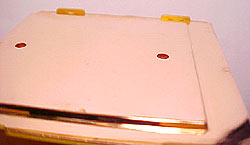 Since the fins are packed so closely together it is difficult to say for sure, but there are no spaces visible that we could see.

The tops of the fins are all interlocked by means of small flaps that help give the thin-fins some support, and maintain their separation.