Athlon Overclocking Card GFD Review
---

At this time in the AMD overclocking world the GFD is beginning to look as old as PC100 RAM (I guess that's why Mac's have to look so stylish...). Anyway our last exploration into the wonderful world of overclocking the Athlon was rather disappointing, with the GFD in question mucking around with the motherboard, and failing to do its job.
When we approached this GFD from the computer zone we were a bit suspicious as to whether or not the powerless GFD concept really did indeed work. Three screws, and a few dip settings later we were happily overclocking a nice little Athlon 750Mhz on our Asus K7V... but could we get it to go to 1.0 Ghz with this GFD and a stock Taisol heat sink. A challenge to be sure. More on that in a moment.
| | |
| --- | --- |
| | The design of the ComputerZone Athlon Overclocking Card is very simple, with only a socket and dip switch to attach to the PCB. Silk screened instructions on the front make reading easy. |
The Computer Zone Althlon Overclocking card came to us in a padded pouch with a set of instructions that only detailed the dip switch settings, and how to insert the card on the processor. A 1-800 number is available if you have any further questions which is a very unique and welcome feature if I ever saw one.
The card only has six rather large dip switches, so it's easy to operate, and rather simple. I hate jumpers so this is great. It has the potential to bring an AMD processor all the way up to 1.2Ghz in 50Mhz increments, and shock the core with up to 2.05 volts. I didn't set the test Athlon to higher than 1.85 volts.
Overclocking!
Starting off at 750Mhz, the CPU's default speed we managed to rack up clock speeds of 800 and 850 with out a problem. Speeds of 900Mhz came easily but windows died, a problem which would have been fixed if a decent heatsink were attached, possibly anyway's.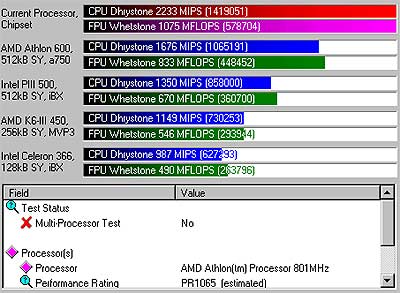 Nicely working away at 800Mhz :)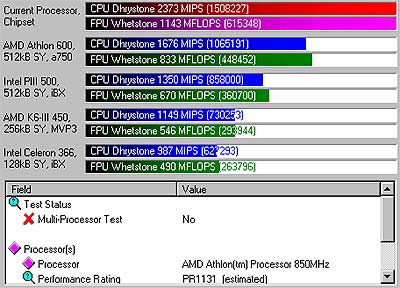 Humming away at 850Mhz, while 900Mhz was achievable, windows wouldn't boot up.
In conclusion, the Athlon Overclocking Card does what it says it will do (the only real test of a good GFD, is easy to set, and comes with decent instructions. Our Athlon 750Mhz, rocking away at a nice speed of 850Mhz is proof positive. At $20 through www.AthlonOC.com the price is amazing as well!
Go forth and overclock your Athlon.