RJ-45 Crimpers Review
---
The last time we looked at crimping RJ-45 jacks onto the ends of Cat-5 cables we were using an inexpensive orange plastic crimper. Although it appeared to be doing the job, we were finding problems with the cables when we tested them out with the Cat5 Tester. What we eventually found was that the cheap plastic crimper was not putting enough pressure onto the metal connectors of the RJ45 jack and they were not seating properly. The end result was a bunch of wasted time and cables which would change from good to bad with any movement of the wire or jacks. Not a good situation.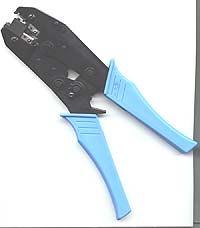 Around this time we were having some technicians in to install our connectivity. We managed to borrow their AMP crimping tool ($400) for a few minutes and recrimp some of our cables. Suffice to say the cables worked fine after one go through that massive metal monster crimper. It also became quite obvious that the orange crimper was only crimping the metal teeth in the RJ45 jack about 1/3 of the way down, which explained why the connections were so loose.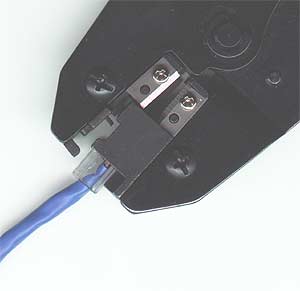 Biting the bullet we invested in an $80 pair of all metal generic crimpers. This particular pair has a spring loaded ratcheting feature so it is basically impossible to undercrimp a RJ45 connector. The crimpers have to be crimped fully before they will open up again and allow you to remove the jack. If you don't crimp enough, you won't be able to remove the jack from the die. Additionally the crimping die is well machined metal, which can be replaced should it ever become damaged. Removable razor blades on either side allow the cat 5 cable to be cut, and or the protective covering removed at the right distance for crimping.
These crimpers are more expensive than the orange pair were, but they actually work, and will continue to do so for quite some time. The crimp is a perfect one every time, and the wire is held firmly in the little plastic RJ 45 jack because of it. Most importantly the cat 5 cables actually work. :)
When it comes to connectivity and lost data that is of course the most important of all considerations.