MCW2000 Preview - Liquid Cooling
---
There is nothing better then waking up in the morning, checking the ol' email and seeing a picture of this liquid cooling beauty in your mailbox :-) This is Swiftech's new MCSW2000 water jacket.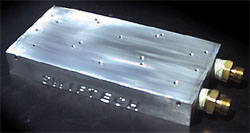 This machined block of aluminum has (16) 5mm x 12mm channels milled into it, and has the capacity to hold 60ml of cooling fluid. The cold plate measures 5" x" 2.5" x 3/4", and has its cover welded on! No rubber gaskets or bolts to possibly leak water all over your motherboard, just pure welded aluminum ;-) The block comes with standard compression fittings as you can see in the picture (with Teflon tape on the threads for added leak protection) that will fit 1/4" or 3/8" plastic or copper piping. Cost is $49 for the MCW2000.
For flatness freaks like myself each surface of the cold plate, whether it's in contact with a CPU, TEC (Thermoelectric Cooler - Peltier), or a copper plate has been milled flat to give the best possible surface. Knowing the MC1000, I'll take a guess and say they are flat to within 0.0005", but we'll have to wait a bit to find the exact value.
One other interesting factoid concerns the side of the MCW2000 designed for mounting two TEC's (one side is specifically designed for two TEC's, the other, for liquid only and single TEC configurations). The aluminum on this side has been constructed so that there is less then 1mm of material between the cooling liquid and the TEC's promoting superior heat migration.
"So what" you say, just another cold plate to push water through - WRONG! Here is where the real benefits of Swiftech's design could shine through, instead of only working with one type of CPU, the MCW2000 has the following capabilities which make it compatible with just about anything that's being overclocked today.
Straight Liquid Cooling - compatible with:

Athlon
SECC 2 CuMine
FC-PGA CuMine/Celeron

Single TEC cooling - compatible with:
Athlon
SECC 2 CuMine
FC-PGA CuMine/Celeron

Dual TEC cooling - compatible with:
Athlon
SECC 2 CUMine
FC-PGA CuMine/Celeron

All FC-PGA versions use the Asus S370-133 Slocket
While there are a few different variations this cold plate can be used for, the ideal one for most overclockers involves strapping this cold plate to a CPU and pumping water through it, which is cooled by some type of radiator. Swiftech have sourced out a small radiator about the size of a 120mm fan that should be able to fit in your average full-tower to small server case. For pumping, it looks like a submersible pump capable of up to 80 Gal/minute will be available for use with the unit.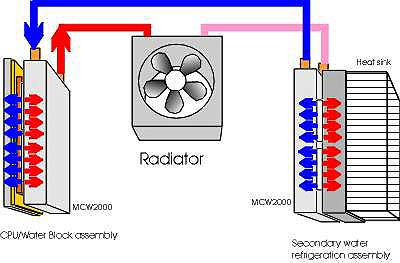 The flxability of this plate would also allow it to be used with an existing system to cool the coolent (by 5 degrees or more according to Swiftech) as it loops around the system, or like the above in a dual MCW2000 setup - where each cold plate has TWO TECS's. Something tell's me a 250 Watt PSU would have a hard time with this type of set up ;)
For those of you who have all the cooling gear already you could easily just get the cold plate and hook it up to your existing pump system. But if your looking to begin water cooling and don't have any gear, you have the option of getting everything you'll need from one location instead of hunting around for this and that which can be a bit of a pain as much as it is fun.
You can check out some more info on this cool piece of overclocking gear at Swiftech's Site. Be assured once we get our hands on the MCW2000 we'll let you know how it performs under the overclocking gun!