Thermalright SK-7 Copper Heatsink Review
---
Just 6 months ago we would have been testing the Thermalright SK-7 heatsink with a 38mm thick 'Delta Screamer'... Thankfully, those days of vacuum cleaner loud fans are past us, and the computer cooling industry is gravitating towards quieter and quieter heatsinks. Thus when it came time to test out this vintage overclockers heatsink, we chose a stock 25x80x80mm fan.
Part of the allure of Thermalright's heatsinks are that they can be used with a very wide variety of fan sizes, typically up to 92mm if you prefer. While even a solid block of copper would kick ass with a 6000RPM Delta screamer attached, it really pays to show how well a heatsink can hack it with a fan more likely to actually be used in your PC. After all, you may be able to cool down an AthlonXP processor to room temperature, but if you can't stand to be in the same room with that heatsink and fan combo then what's the point? With that out of the way, let us begin our look at the Thermalright SK-7 copper heatsink and 80mm low noise fan!
Heatsink Specsheet:

Model: SK-7
Fan: 2500RPM, 12V, 0.13A
Fan Dim: 25x80x80mm
Heatsink Dim: 85x65x42mm (W/O fan)
HS Material: Copper Sheet and Copper plate.
Weight: 485 g

Sold By: www.thermalright.com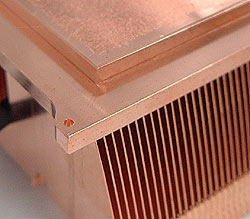 The soldered on fin design of all Thermalright heatsinks is nothing new, and it is a process that works well if done right. Each roughly 0.35mm thick copper fins is stamped from sheet metal and then assembled into an interlocking fin assembly via little tabs and keys on the outer corners. The entire fin assembly is then soldered to the copper base plate.
Providing the solder joint is thin, and complete, the overall effect is very similar to having a full copper heatsink from tip to base (but not exactly as thermally efficient).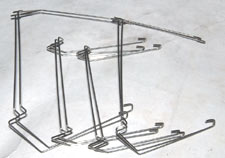 Thermalright protect the heatsink base finish with a protective sticker, but unfortunately it seems they may have been a little too zealous choosing the adhesive, because as we pulled off the sticker, the glue stayed in place. Suffice to say, it was a real chore to remove all that adhesive before even being able to test out the Thermalright SK-7 heatsink.
Fans are held in place on the Thermalright SK-7 by means of two springy wire clips. The clips hook into little tabs at each corner of the copper base plate. With a fan in place on top of the fins, the clips are positioned so that they lock into place in the small screw holes in the fans' plastic frame. The system works pretty well, and makes it rather easy to remove and swap out fans without the need for any tools.
The SK-7 comes with four sets of these clips so that fans of 38mm, 25mm, or 15mm in height can be used with the heatsink. Depending on the height of the fan you wish to use, one set or another of the clips are necessary. A small set of foam stand offs are also included which you can stick to the bottom of the heatsink to help prevent the silicon core from being chipped during installation.