Titan TTC-CU9TB/SC Copper Heatsink Review
---
A common way heatsink manufacturers get the most from their investment in tooling and design is to make one particular heatsink available in different versions which are compatible with multiple processors. Titan released the TTC-CU9TB/SC in a virtually identical model for the Pentium 4, and while in that instance it performed pretty well, we'll have to wait for the results to see how the Socket A version handles the job.
Given that the surface area the heatsink makes contact with is so drastically different between that of Intel and AMD processor, it's no wonder the results are so unpredictable. Typically, AthlonXP heatsinks work best with a base of no more than about 3mm thickness. This varies with the type of material used to make up the heatsink, but is generally consistent no matter what type of fins are used. Conversely, Intel Pentium 4 processors have a much larger surface area to make contact with the heatsink, and so P4 coolers generally do best with a thicker base, of say about 6-10mm.
The Titan TTC-CU9TB/SC and TTC-CW9TB/SC are the same heatsink, save for different clipping mechanisms. Yet, when it comes to application, the Pentium4 version would seem to be better suited to that processor than the AthlonXP, as you'll see in the results below.
Heatsink Specsheet:

Model: TTC-CU9TB/SC
HS Material: Copper, chrome plated fan shroud
Fan: 4200 RPM, 12V, 0.24A
Fan Dim: 25x70x70mm
FHS Dimensions: 85.5x70x72mm
Made by: Titan

Sold By: www.titan-cd.com
With a healthy dose of chrome plating, a clear plastic fan grill, and an expansion bracket fan speed controller, the TTC-CU9TB/SC does offer a lot up front. The idea of a fan speed controller is good, but using an entire expansion bracket for this just seems a little counter-productive in the end.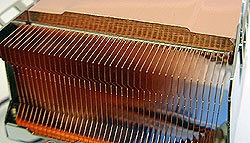 Not only do users have to reach around back of the PC to fine tune the speed of the TTC-CU9TB/SC's fan, but they also loose access to one whole PCI expansion slot... though the bracket is relatively well made.
Given that the Titan TTC-CU9TB/SC is based on copper fins soldered to a copper base, the design seems to be one where from first impressions we could expect pretty decent performance.
Of course, with all heatsinks where there is a solder interface, you can never be too certain of how well the cooler will perform before actually testing it out. If there are microscopic gaps in the solder flow, they can resist the flow of heat energy from the base - and that could mean problems when it comes to keeping your AthlonXP running cool.