Tocools Crown Retail Heatsink Review
---
The Crown heatsink from Tocools is one of the more interesting adaptations of an extruded heatsink because of how the base is formed. On typical run-of-the-mill extruded heatsinks the base is a constant thickness over then entire area. Where the Crown sets itself apart is that it uses a base with varying thickness. Along the central axis of the heatsink the base rises to a peak 18mm high, and along the outer edges it slopes down to just 1mm. Of course, if you look from the outside the Crown looks a simple multi-fin heatsink.
As Tocools have not had that much exposure outside of Korea, there are one or two thing about the Crown that could stand to be improved on, but thankfully, the underlying heatsink is sound. Best of all, the base is machined perfectly flat - just what we like to see! With all that said, lets have a look at the retail version of the Tocools crown - a heatsink we previously reviewed as prototype. The retail version has changed a bit from that large and bulky prototype mainly to meet AMD specs, and get the official stamp of approval.
Heatsink Specsheet:

Model: Crown
HS Material: Machined Extruded Aluminium
Fan: Panaflow/ Delta
Fan Dim: 15x60x60mm
FHS Dimensions: 80x63x65mm
Made by: Tocools
Cost: ~$30USD

Sold By: www.tocools.com
As with every heatsink, we always find one or two things which could have been done a little better. In this case, the Crown passes muster for everything but the clip. Tocools use a custom clip, and while it should work on normal sockets without difficulty, holding the heatsink firmly in place, we had a few problems with it.
Obviously, since we use test equipment with slightly different clipping structures we expect some heatsinks to be tough to mount - that's just normal. What we didn't expect is scraping knuckles on metal because the clip where the screw driver fits breaks off. The clip Tocools use is made from metal too thick, and most of all, too brittle. The forming process of what appears to be stainless steel of some sort stresses the metal and creates cracks and micro fractures visible on the surface. When the clip is flexed too much these small cracks turn in to fissures and the clip simply fails from fatigue.
If you are careful during installation you should not have any problems, but I would highly recommend Tocools use an alternate type of clip which is first of more robust, and secondly, designed better for tooled installation.
Big fan, small fan
We were sent two models of the Crown to test, the only difference being the size of the fan. Below you can see a picture of the version with a lower RPM Panaflo fan. Acoustic and thermal results for both heatsinks will be included in this review. In addition to the heatsink Tocools include a small syringe of Cooling flow ceramic based compound (our material of choice for its easy cleanup and good thermal properties). Also sent along was a prototype fan rheostat much like the Zalman Fanmate 1, but a little bit more advanced.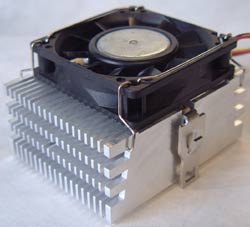 We have also added in the thermal results of the Crown with the other fan version it ships under - a lower noise 15mm thick Panaflo. The heatsinks are otherwise identical.