Thermalright AX-7 Heatsink Review
---
Brother to the AX-478, the Thermalright AX-7 is a massively well endowed heatsink when coupled with our favorite 38mm thick Delta fan. The trade off is pretty evident, noise levels are enough to wake the dead, but for those of us who really the performance it is the only way to go. And hey, as sound proofing materials for computer cases continue to improve, this level of cooling may just be a viable option with the right case tweaking.... err soundproofing... but if that doesn't work, the AX-7 comes with screws so you can add whatever type of low-noise fan you desire.
The folks at 2cooltek.com sent this cooler over for us to test out, so if you like what you see here you can pick one up there. Moving on, Thermalright have another heatsink which is almost identical to the AX-7. The socket 478 version and this cooler (socket A) share the same fundamental construction. That heatsink performed very well when we tested it out, and with the big Delta fan I'm sure the Thermalright AX-7 will follow suite.
Heatsink Specsheet:

Model Name: AX-7
Fan Specs: Delta, 5700RPM, 12V, 0.81A.
Fan Dim: 38x80x80mm
Heatsink Dim: 81x50x61mm
HS Material: Extruded Aluminum, nickel plated, copper plate.
Weight: 600grams
Mfg by: Thermalright


Sold By: www.thermalright.com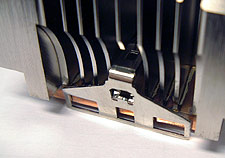 The AX-7 is a big heatsink, and if it were 80x80mm all the way to the base it wouldn't fit on very many motherboards. To alleviate this issue, the manufacturers have cut down the base area to just 50mmx61mm.
This base area is in fact entirely copper, and as you can imagine, ensuring a good thermal joint between the nickel plated aluminum and copper is paramount.
Any spaces, voids, or locations where the solder has not properly flowed would be one more place where heat energy would less efficiently transfer to the aluminum cooling fins.
Another issue with a heatsink this size is one of weight - too much weight on the socket and processor can be a dangerous combination. The socket clips can snap off leaving a 600gram heatsink to rattle around in the inside of the computer. To help prevent these things from happening, the Thermalright AX-7 equipped with a three-tap socket clip, which will keep it securely in place.