Vantec VP4C7040 Copper Core P4 Heatsink Review
---
It is very common these days for a manufacturer to devise one heatsink design and adapt it to work with both Socket m478 Pentium 4 platforms and Socket A AMD systems. In most cases the heatsink makes the transition well, but not always. The Vantec Aeroflow VP4C7040 is based on almost an identical unit as the AMD version, except for a different mounting mechanism and dimensions. This heatsink is a little larger so it will fit in the heatsink retention mechanism (HSRM).
When we reviewed the Socket A version we found that the Aeroflow was a very good performer, in the performance class even. The VP4C7040 has a tougher set of reference heatsinks to compete against, including the fabled Alpha PAL8942. How this 436 gram heatsink will perform is something we'll touch on in just a second, but first let's take a closer look to find out what makes the VP4C7040 so interesting.
Heatsink Specsheet:

Model Name: VP4C7040
Fan Specs: 5600RPM, 35CFM, 12V, 0.30A.
Fan Dim: 15x75x75mm
Heatsink Dim: 75x86x60mm
HS Material: Extruded/milled aluminum, copper insert
Weight: 436grams
Mfg by: Vantec


Sold By: www.vantecusa.com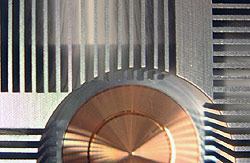 Each Aeroflow heatsink comes equipped with a YS-Tech TMD fan. The Tip Magnetic Fan generally offers more cooling potential for the buck because the fan motor is located around the outside of the fan, not in the center.
Traditional brushless DC fans cause a dead spot directly under the fan motor where air doesn't circulate very well, if at all. With most fans centered over the area where the core of the processor comes in contact, that type of situation is obviously something we want to avoid.
From a distance the heatsink appears to be a standard extrusion, but looking closer we find that each and every fin on the Aeroflow has been cut, and that a small incline has been left at the base of heatsink. In other words, the depth of each fin at the top of the heatsink is greater than at the bottom where the fins measure just 13mm on average. At the top of the heatsink each fin measures 23mm deep.
The idea of the tapered fins seems to be to bring the exhaust air down through the fins and then out laterally at the base of the heatsink so the air doesn't back pressure against the motherboard, or processor itself. You should be able to see the slight taper from the above photo which was taken looking from the top of the Aeroflow down along the fins.