Evercool ND18-715 Heatsink Review
---
This type of heatsink has shown up under a couple of different manufacturers names, but so far each version has remained a little bit different than the others. In this case the Evercool ND18-715 is an aluminum extrusion heatsink which has had a thin 3mm thick copper base plate tin-soldered to the base (after nickel plating). The fan and the curve of the fins enable this heatsink to remain pretty competitive amongst thermally while not generating all that much noise.
This is not a silent heatsink, but it is fairly low on the noise levels which is always a welcome aspect. The base of the heatsink is actually smaller than the top which measures 80mm square. In this configuration, and with the help of a small increase in base thickness at the center we have a heatsink which exhausts air with little turbulence or back pressure it seems.
The curves in the side of the Evercool heatsink also mean that closely placed capacitors or other board mounted components have less of a chance of getting in the way of the cooling solution.
Heatsink Specsheet:

Model Name: ND18-715
Fan Specs: 3500RPM, 27CFM, 12V, 0.18A, 30 dB(A)
Fan Dim: 15x70x70mm
Heatsink Dim: 70x80x58mm
HS Material: extruded aluminum, tin soldered copper base
Weight: 262 grams
Mfg by: Evercool

Sold By: www.evercool.com.tw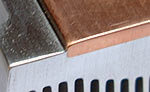 Still, we are dealing with a primarily aluminum heatsink, so the chances of the Evercool ND18715 coming in at the performance level are low. However, I wouldn't be too quick to discount this heatsink either.
The copper base should be sufficient to place this heatsink in the good cooling range, and for most of us, that is all that really matters.
I'd expect the ND18715 to retail for a pretty competitive price, so good performance would make it an ideal heatsink for just about any stock configured system. The results are just around the corner, so let's move forward and find out just how well the Evercool heatsink performs thermally, and acoustically.