What's New in Cooling No. 1
---
Let us know!
Make sure your compaines heatsinks and cooling products are included in the next installment of FrostyTech's What's New in Cooling! Send your press releases to news@frostytech.com
This first edition of "What's New in Cooling" originally started off as a news post about the new Vantec heatsinks, and then one thing lead to another and we ended up with four pages of heatsinks to look over. Quite a few of the heatsinks we saw are for the AMD K8 processor. What is somewhat surprising is the level of force they require - up to 75lbs. Intel will soon be changing its socket formfactor with Prescott yet again, and so another round of heatsinks will need to be built to support this upcoming processor - but for the moment the socket 478 formfactor reins supreme.
Enjoy issue No. 1 of Frosty's What's New in Cooling , there will undoubtedly be many more to come as heatsink manufacturers continue to strive for perfection!
Vantec:
What is AeroFlow?
As the Intel and AMD processors expended so fast, Vantec R&D department keep innovates new technologies to fill the market needs and provides better thermal solutions. Traditional heatsinks are designed with cross sectional fins to remove the hot air that generated from the CPU and the air flow out only from two sides of heatsink.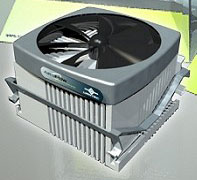 Unlike other traditional heatsinks, the AreoFlow designed with a copper-core center to help absorbing the heat faster away from the CPU. The unique four-side aluminum fins are designed with a slope inside the heatsink. The purpose is to remove the heat smoothly from the center of heatsink. This design is to ensure hot air will be removed from each corner of the heatsink properly. It will yield a unique air circulation around the heatsink and that's the reason why it's called AeroFlow.
From the Web:
KoreaMod has a review of these
SATT and ZEROtherm
heatsinks which I've never seen anywhere else before. The common link between the two of them are the heatpipes, and many thin radiator-like cooling fins.