Spire 5F263 Quiet Heatsink Review
---
The last time we reviewed a heatsink in this series from Spire we found it pretty quiet, with some decent performance as well. This time around the expectations have been raised, and so apparently have the manufacturing standards. For a heatsink we would instantly consider at OEM, the Spire 5F263 has some very high end aspects - the most noticeable of which is the finish of the base.
Not since Zalman entered onto the marketplace have we seen a heatsink with such a well finished base come from overseas. With specs like this it is a lot easier to believe that an all-aluminum heatsink has a fighting chance at ranking well in the synthetic temperature test platform.
Heatsink Specsheet:

Model: 5F263
HS Material: extruded aluminum
Fan: 2500RPM, 12V, 0.13A, 31CFM,
Fan Dim: 25x80x80mm
FHS Dimensions: 74×74×47mm
Made by: Spire
Cost: ~$32USD

Sold By: www.spirecoolers.com/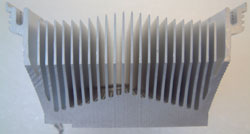 Every once in a while we catch glimpse of a new technology being used for the sake of cooling. The Spire 5F263 is a pretty standard extrusion except for the design and implementation of the base.
Rather than use a flat surface, the base angles up towards the center - providing more thickness and girth for the spreading of heat energy to the outer fins.
If this triangle were rotated 90 degrees we would be even more interested in seeing out the 5F263 performs... but perhaps that is saying too much already.